John and I had a blast attending a garden feast hosted by the Village Homesteading Mundelein group.  If you are interested in organic gardening, traditional arts, food preservation, environmental programs, then heads up, local Lake County folks… this is a group you want to know about.
Oh…if you peek at their about page, they also list: home brewing, (Hey, John Kelly, we must have missed that part!) canning, recipes, painting…(I'm on board with that!), bee keeping and a whole other big pile of stuff. They have chickens on their logo, but I can't honestly say I came across any.
Not yet anyhow. But if I do…Oh boy, will I be excited!
Anyhow, back to the weekend.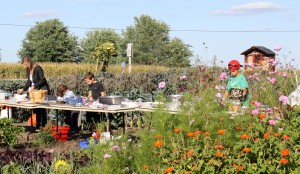 They hosted a garden party IN the garden, complete with a pig roast, and a long and delicious spread of food from their 1/10th of an acre of a garden.  The food was fresh, mouth watering, unique and inspiring to imagine that the majority of it, (Not the pig, I don't think) came from that garden.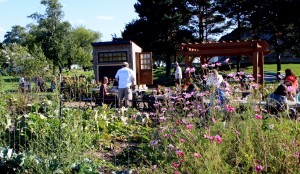 It made me want to run right home and dig up every blade of grass I own and start planting.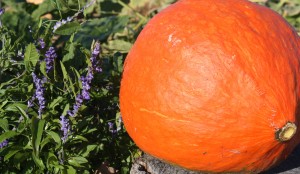 But the reality is that I don't have time to turn my yard into a sustainable organic oasis. John and I are just two people, who, despite our love for fresh, wholesome, organic home-grown food, also have a billion other hobbies and passions that require our energy and creativity.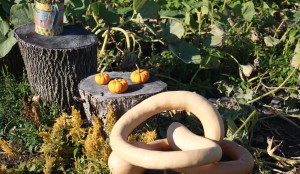 This is where a Community Project like this garden is so brilliant and amazing and wonderful I couldn't help feel the excitement crawling from the balls of my feet to the roots of my hair. When people gather together for a common purpose, a purpose with vision, passion, common good, and is delicious and brings joy as well? There is no end to the wonderfulness it can provide.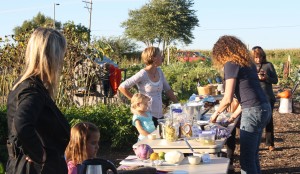 For more pictures of the gorgeous day, check out the Facebook album. (Sure, friend me if you want to, I'm friendly).  Leave a comment here and tell me more about your homestead gardening experiences or stories. I'm interested. And share this post if you enjoyed it, I would love for people to know about this project!