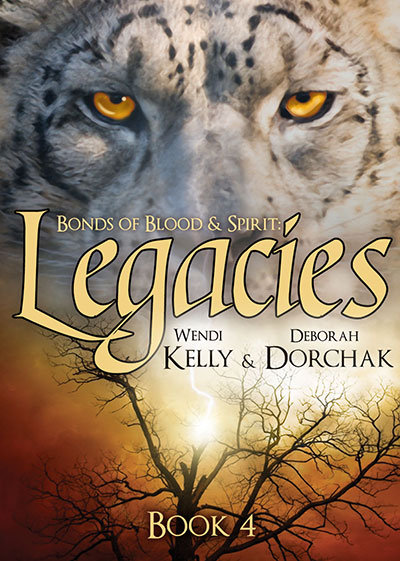 About the Book
Legacies. We create them with our lives. They tie us to the past and future, and sometimes, they are the chains we must break to ever find happiness.
Regina and her Pack now face some difficult choices. They stand on the verge of war, precariously balanced between the legacies their ancestors left them, and the hope of a bright new future—if they survive.
The bonds they forged and strengthened for generations are tested to the breaking point.
Will love or power triumph? Only time will tell.
Endorsements
The final book in the Bonds of Blood and Spirit series, in my opinion, achieved what it set out to. The horde of shape-shifting characters introduced in the first three epic books, come together to fight one final battle. You need to read the books in order, and I would also suggest reading them fairly close together, as at the start of this novel I struggled a bit to recall who was who, as there is an extensive cast of characters. It soon came back to me though, and although long, I found myself gripped by the constant threat of peril from rogue wolf Dupree. This book goes into great depth in examining the characters histories and motivations, and many of them faced particular challenges as family secrets and revelations came to light. With the pack undergoing such internal change and turmoil, the 'bad guys' could not have picked a worse time to start a war. Regina must control the ever-changing relationships in her pack, whilst allowing each member to find their feet and to feel valued. With her own baby on its way, she must also confront her love for Cole and Harry and work out a way to have them both, whilst preparing herself and the pack for war. A slower book in some places, as so much history is revealed, and characters spend a lot of time talking and negotiating and plotting, but if you have enjoyed the rest of the series as much as me, you will find this interesting and vital to the plot of the book which leads to the final battle. A perfect tying up of loose ends revealed secrets and new alliances. I think I will continue to wonder, what happened next? I recommend this to readers who enjoy an epic saga, a vast but believable array of colourful characters, plus plenty of romance, danger, action and adventure. This series has it all.
Other Books in "Bonds of Blood & Spirit"
Disclosure of Material Connection: Some of the links in the page above are "affiliate links." This means if you click on the link and purchase the item, I will receive an affiliate commission. I am disclosing this in accordance with the Federal Trade Commission's
16 CFR, Part 255
: "Guides Concerning the Use of Endorsements and Testimonials in Advertising."